BOOST YOUR
ANALOG DESIGN SKILLS!
WITH SPICE
CIRCUITS AND APPLICATIONS
Design, test and modify these circuits using the SPICE simulator: Op amps, filters, sensors, switch-mode power supplies, PID controllers, audio amplifiers, etc. Explore circuits on your own or use the tutorials to get you started. Go to collection...
WHAT IS SPICE?
Simulate circuits on your PC. View voltage and current waveforms, frequency responses or bias points. Then change values, add components. SPICE is a great tool - you can learn a lot in a short time! More...
WHERE CAN I GET SPICE?
Free demos and downloads. More...
HOW DO I RUN SPICE?
Just download a SPICE circuit file from this site and simulate it with one of several free SPICE simulators available as demo versions. More...

NEW SERIES STARTING!
EE Calculator Series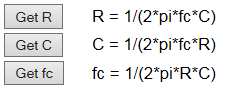 Try the latest RC Filter calculator. Enter any two design parameters from R, C or fc. Then hit one of three buttons to get your desired value.
The calculators are built on simple JavaScript and HTML! Use the EE Calculator Series as templates to build your own library. Later you'll learn to create your own SPICE models and graph functions. Jump right in with RC Filter - 3 button calculator.
SPICE TOPICS
Op Amps
Design a fully differential ADC driver.
Design a single-ended to differential ADC driver.
Design audio tone controls.

Sensors, Control, General
Simulate an NTC thermistor.
Understand how a sensor bridge works.
Tune a PID controller.
EXCEL / BASIC (VBA)
Explore electronics using BASIC programming.
Explore the operation of an ADC.
Create waveforms with the Fourier Series
Check out all the topics.
Perhaps the best way to learn analog design is to do it.
Analog Circuit Design, Jim Williams