HANDS-ON DESIGN AND ANALYSIS
WITH SPICE, EXCEL AND JAVASCRIPT.

CIRCUITS AND APPLICATIONS
Design, test and modify these circuits using the SPICE simulator: Op amps, filters, sensors, switch-mode power supplies, PID controllers, audio amplifiers, etc. Explore circuits on your own or use the tutorials to get you started. Go to collection...
WHAT IS SPICE?
Simulate circuits on your PC. View voltage and current waveforms, frequency responses or bias points. Then change values, add components. SPICE is a great tool - you can learn a lot in a short time! More...
WHERE CAN I GET SPICE?
Free demos and downloads. More...
HOW DO I RUN SPICE?
Simply download a SPICE circuit file from this site and simulate it with one of several free SPICE simulators available. More...

ELECTRONIC CIRCUIT DESIGN TOOLS
Explore Image Processing
Create rectangles & gradients.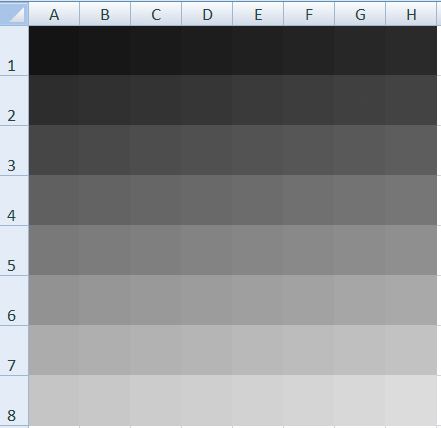 Specify rectanglular shapes, positions and gray levels. Then use simple VBA code to create your shape using a square cells and changing the background colors. Find out how. Try it!
DESIGN TOPICS
Circuits
Check inside a guitar distortion box.
Design a single-ended to diff ADC driver.
Design audio tone controls.
SPICE Models
Improve op amp models with 2nd and 3rd poles.
Model a Voltage-Controlled Resistor.
Create basic digital logic gates.

EXCEL / BASIC (VBA)
Explore electronics using BASIC programming.
Explore the operation of an ADC.
Create waveforms with the Fourier Series
Check out all the topics.
Give me a fruitful error any time, full of seeds, bursting with its own corrections
Vilfredo Pareto